ICE FISHING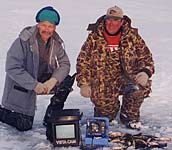 Don't miss some of the best ice fishing around because you don't have the means to get out the or the right equipment. We have the perfect set up for you!! From shack rentals to the ultimate perch ride to the hot fishing spot on Lake Mendota.
Shack Rental Includes:
Lazer Auger
Rigged Rods
Vexilar Locator
Heated Shack
Drilled holes in the shack
Service includes comfortable ride out & back from the shacks,
and helpful hints & tips.
Rates:
$40.00 per person / $100.00 minimum
$50.00 deposit per shack at the time of booking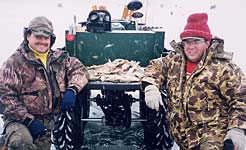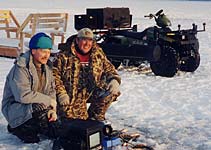 Perch Ride:
(Available on Lake Mendota)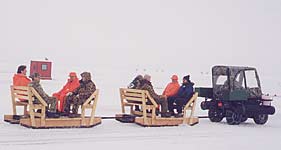 If walking isn't your idea of fun, and you don't own a four-wheeler, then the Perch Chariot is the way to go! Save your time and energy for fishing and let us get you to the hot spot with less effort. We will pick you up from a designated location and take you out to where our shacks are located. Pick up points are by the shacks and are all day long until 3:30 PM. You may bring your ice fishing gear & portable shacks along on the chariot.
Please Note: This service is only available if we have our ice shack rentals on Lake Mendota. Please call us for more information at (608) 241-4425.
Rates:
$10.00 ride out & back per person per day.


If you want an up-to-date fishing report on our local & surrounding waters, give us a call on our Fishing Hot Line at (608) 244-3474 or BIG-FISH, or you can check our online fishing reports by clicking here. We offer many fishing reports to local & regional papers, on radio stations.