Christmas hours
Sunday 6am-1pm
Monday we will be closed


Fall and Winter Hours
Mon-Sat 6am-6pm
Sun 6am-5pm

Winter 2017 Fishing Seminar Schedule
We're happy to announce our lineup for the Winter 2017 Fishing Seminar series! With local experts stopping in to speak on a variety of topics, it's a can't miss for every fisherman and woman. Come on in on Thursday nights to catch some pointers. The seminars start at 7pm and are always free to the public. There's often special sales that run right after for those who want to pick up new gear or a new hobby. We'll be starting on the first Thursday of December. The lineup is as follows:
DATE | SPEAKER | TOPIC
December
12/7 | Pete Huph | Jigging Tactics for Pan fish on Beaver Dam and Fox Lakes
12/14 | Brian Zubke and Austin Ragotzkie | Bluegills and Crappies on the Madison Chain
12/21 | Jimmy Kusuda | Perch and Minnow Connection On Lake Mendota
D & S Bait has been in business for over 25 years in the same location. We carry a full line of bait and tackle.
OUR STORE & STAFF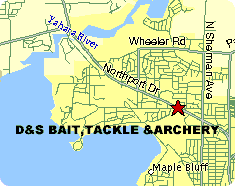 We are approximately 1 hour from Milwaukee & 2 hours from Chicago. Located on the northeast side of Madison, we are just 5 minutes from Warner boat launch on Lake Mendota. We are easy to find and have ample parking.
D&S Bait is your one stop shop for all of your fishing gear, licenses, launch permits, ice, pop, and snacks! Close by are many restaurants, gas stations, motels–and the interstate is just minutes away!
Our staff is made up of local and knowledgeable fishermen that grew up in this area, and fish the local and surrounding lakes religiously. They are always happy to help you prepare for a great fishing experience, whether it be for the local lakes or a family fishing vacation.
We can mark maps and give you the current hot spots and fishing tactics for many of the the local and surrounding waters. If you don't see one of the guys in the store, you'll see them on the water! They are always working on improving their fishing skills so they can better accommodate their clients and customers.
Walleye – Musky – Bass – Smallmouth – Crappie – Bluegill – Perch
Give us a call at the store at (608) 241-4225, we are happy to help book your fishing guide or plan your next fishing trip in the Madison area. Or call our Fishing Hot Line for the latest reports at (608) 244-3474 (BIG-FISH) or just CLICK HERE for our online fishing reports, news & tips. You can also find us on Facebook. If you want to get on our mailing list, we will be happy to keep you updated with our seminars and guide service.
Fall & Winter Hours
---