D & S Bait has been in business for over 25 years in the same location. We carry a full line of bait & tackle.
SERVICES: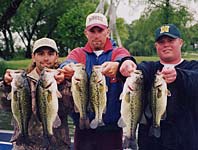 We are open year round, seven days a week from sun up to sun down. We carry all fishing & hunting licenses and boat launch permits for Dane County.
Guide service is available from panfishing to Musky fishing. All equipment & bait is supplied by the guide. Just bring proper clothing, food & beverage. Call for more information at (608) 241-4225.
Free Fishing Seminars are a highlight on Thursday nights in the store for both the novice and pro fisherpersons. Seminars start at 7:00 pm & run from March through May and December. Speakers are knowledgeable local fishermen willing to share their fishing tactics and ideas on the local & surrounding lakes & waters. So stop by and tell us your fishing tales!
If you want an up-to-date fishing report on our local & surrounding waters, give us a call on our Fishing Hot Line at (608) 244-3474 or BIG-FISH, or you can check our online fishing reports on our Facebook page. We offer many fishing reports to local & regional papers and radio stations.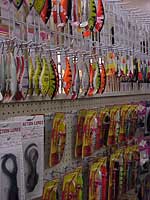 FISHING TACKLE:
St. Croix rods · Rapala · Yamamoto custom baits
Shimano · Mepps · Northland · Vexilar
Abu Garcia & Quantum Reels · Eagle Claw · Strikemaster
Berkely · Bucher · Thill  · LARGE selection of ice jigs
Ice tents
PREMIUM BAIT:
Spikes · Night crawlers · Shiners
Waxworms · Helgramites · Suckers
Red worms · Leeches · Smelt
Leafworms · Minnows
Plus much more!
Bulk bait is also available for all of your vacation needs, including Canada!