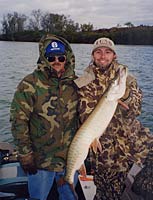 The Madison area offers a variety of fishing opportunities. No matter if you're looking for bass, walleye, trout, a boat load of panfish or a battle with the mighty musky, D&S will direct you to a local fishing expert who will assist you in a successful outing!
Guides Supply:
Fully Rigged Boat
All Tackle
Rods& Reels
Bait
Professionalism & Enthusiasm
You Supply:
Proper Clothing
Food and Drink
WI Fishing License
Rates:
Rates vary depending on the guide and species. Please call us at (608) 241-4225 and we'll point you in the right direction!
Hiring a fishing guide is a great way to shrink the learning curve or just learn some new techniques. Consider your trip as an on the water seminar with fish catching action!